Common Mistakes People Make When Doing Their Accounts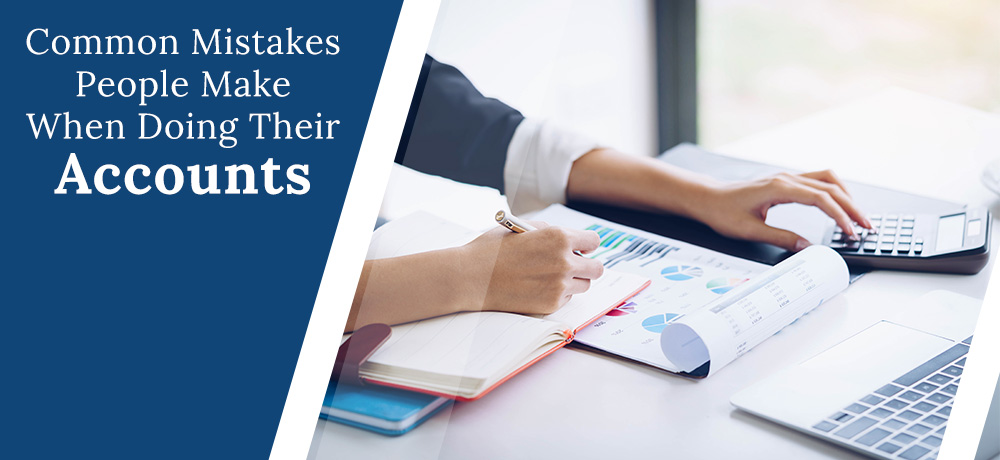 As an individual taxpayer or a business entity, efficient accounting is essential to keep your finances in check and facilitate the smooth functioning of any business. Unfortunately, instead of hiring a professional to record cash flow and manage taxation matters, many business owners opt to do it themselves.
Unfortunately, DIY accounting could lead to minor errors like recording the wrong figures and using incorrect names or bank accounts that could invite the ire of the IRS. To help you steer clear of such situations and help you streamline your accounting process, Corey & Associates has put together a list of the most common mistakes people make when doing their accounts.
1. Doing your own accounts.
If you're running a business, accounting can get very complex you may lose track of the various financial transactions, expenses, and investments undertaken over the year. An accountant can handle these time-consuming tasks and also help with your taxes, employee payrolls, pay stubs, etc. so that you can focus on generating revenue for your business.
2. Thinking you don't need to hire an accountant.
An accountant does more than preparing a balance sheet. They can also analyze, review, prepare reports, and interpret the financial information for your business. A professional accountant can help you to reach crucial decisions on how to manage your business, where to invest, and how to increase performance.
3. Not checking reviews.
To get the best possible services, check the number of stars the professional has on online review sites. Seek referrals from friends and family, research the company, find out what their previous clients have to say before you get into business with them. Reviews can help you ascertain that you're hiring the right professional.
4. Not consulting a full-time accountant.
Many entrepreneurs go to part-time accountants or seasonal accountants who work at home to cut costs. However, if you have a question or need to review your financial standing the preparer or accountant might not be there when needed. To ensure that your problems and inquiries are prioritized, make sure that the accountant is available all year-round.
For the best tax accountants in Hialeah, Miami Lakes, FL, reach out to the experts at Corey & Associates. We are dedicated to providing our clients with the top of the line accounting, tax, and consulting services. If you need answers to any accounting, and tax-related questions, contact our experienced accountants for a free tax and accounting consultation. We offer our services to clients across the United States including Hialeah, Miami Lakes, Pembroke Pines, Doral, Palm Springs North, Opa-Locka, Miramar, Hialeah Gardens, Miami Gardens, Miami Springs, Miami-Dade County, and the surrounding areas. For a complete list of our services, please click here, or get in touch with us by clicking here.